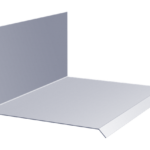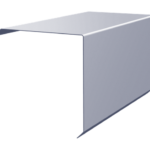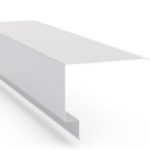 Complement the finishing touches to your roof with our extensive range of Ridges, Valleys & Flashings. Made from quality BlueScope Steel: Colorbond®, Zincalume® or Galvanized®. We can also make in Stainless Steel or Aluminium. Locally custom made to your specifications and available in a wide range of Colorbond® colours. Flashings are the perfect fixture to complete your roof. Flashings can be made for any purpose/size and application. We can manufacture to your needs.
Minimum flashing fold is 8mm. Safety edge = 2 Bends. Maximum flashing length is 8 LM. Flashings under 1 LM will be charged at a minimum of 1 LM.
Barge Flashing – an angle flashing that stylishly finishes off your roof. These are often made with a slight break, square or bird's beak at the bottom edge.
Apron Flashing – a bent section of metal which is used to stop water from penetrating the area where a roof traverses with the vertical segment of the building.
Valley Gutters – We manufacture a standard valley gutter that is 12mm x 13mm x 150mm x 150mm x 13mm x 12mm which suits timber valley boards. We also make a hung valley that is 40mm x 50mm x 150mm x 150mm x 50mm x 40mm which suits metal batten roofs. They are made from 0.55mm material and these are common designs. The designs are used on a range of applications but the measurements can be changed when suited for different requirements.
Other types include, but are not limited to sample drawings only:
Curved Flashings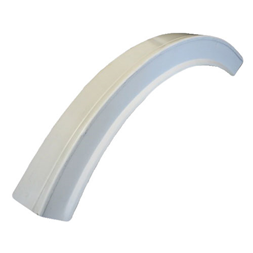 For houses or commercial structures with a more curved shape, we provide a customized flashing. We have the capacity to make to order a wide range of different sorts of flashing to create the perfect solution for your project.
Curved Apron- By way of Straight & Part Curved
Curved Barge-  By way of Straight & Part Curved
Curved Parapet- By way of Straight & Part Curved
Curved Gutter- By way of Straight & Part Curved
Sample drawings only: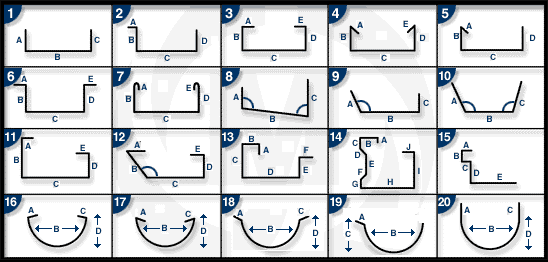 If you have any questions about our products, please do not hesitate to talk to us. We are always happy to answer your questions.